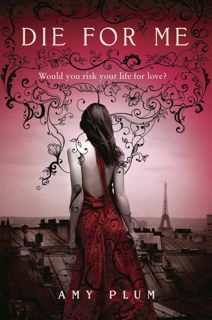 Release Date: 5/10/11
Publisher: Harper Collins
When Kate Mercier's parents die in a tragic car accident, she leaves her life—and memories—behind to live with her grandparents in Paris. For Kate, the only way to survive her pain is escaping into the world of books and Parisian art. Until she meets Vincent.
Mysterious, charming, and devastatingly handsome, Vincent threatens to melt the ice around Kate's guarded heart with just his smile. As she begins to fall in love with Vincent, Kate discovers that he's a revenant—an undead being whose fate forces him to sacrifice himself over and over again to save the lives of others. Vincent and those like him are bound in a centuries-old war against a group of evil revenants who exist only to murder and betray. Kate soon realizes that if she follows her heart, she may never be safe again.
Take your average love story, now add floating spirits, Paris & a complete and utter hottie hero, this equals Die For Me!
Going through tragedy is always hard, when Kate losses her parents she wants nothing more then to get out of NY, to cleanse herself of sorrow and be reborn. Accepting an invitation from her grandparents to come live in Paris seems like just what the doctor ordered for Kate...
While trying to just numb her past & find her niche in Parisian life, Kate can't help but realize she keeps seeing the same gorgeous guy everywhere she goes. Trying to keep his face out of her mind is like trying to nail Jell-O to a wall....ain't happening. There's something magnetic about Vincent that draws Kate in. As they start forming a bond Kate finds herself happy for the first time since her parents death. I start feeling happy for Kate, yeah well that's short lived when she witnesses one of Vincents friends die. She's unable to understand HOW someone can be so calm and collected after watching the horror she just saw. So Kate turns her back on Vincent and doesn't want to see him again. But fate has other ideas for Kate, and these ones include Vincent.
Amy description of Paris are remarkable, yet not over done. She's able to make your mind feel as though you're looking out of Kate's eyes and taking in all the splendor that the French capital embodies.
I will have to say that I truly enjoy the refreshing love that Vincent & Kate share, though their numerous amounts of ups & downs make me feel like I'm on a roller coaster, I believe that in the end it adds that much more strength to their bond. After finishing this book you realize that Vincent isn't the one who's cracking Kate's shell wide open, but that they're enabling each other to feel and love for what seems like the first time. It's pure and selfless, and makes me slightly jealous.
I can't wait to see where this love story ends up and how Amy will top Die For Me.
4/5