===================
Author: Mary Shotwell
Website
Release Date: 5/10/2016
Purchase Info: Amazon ~ B&N
For fifteen-year-old Lason Davies,
it all started with a text.

HIDING PLACE

The last words of her murdered grandmother haunt Lason as

she travels to England with her sheltering mother for the

funeral. The crime is a sensation, but the clamoring reporters

and news photographers aren't the only ones interested in
their arrival.

As her mother's behavior borders on erratic (on a good day),

Lason encounters a stranger from Weariland, a dreary world

once known as Wonderland. He petitions Lason's help in

finding a secret family heirloom, a key to saving his land—and to Lason's past. Lason is swept in an adventure through

Weariland's unpredictable realm, encountering colorful,
fantastical characters and discovering her family's elusive
history. But if she isn't careful, she may never return…
Lason's grandmother has been murdered, now adding this tragedy to her mother's already wacky behavior it doesn't seem like anything could go happen, right?? Wrong. Someone is after Lason, her mother and any other family they might have. But I guess that's what happens when you're a decedent of the original Alice....you know, the one in Wonderland!
Taking down these decedents of the original Alice, has put Lason's life in danger, but to find out what's really happening in Weariland she must trust a stranger. Finding herself in Weariland, which is twisted, almost futuristic version of Wonderland, Lason is on a mission. To save herself and her family, find a missing treasure and right so many wrongs.
The entire story-line, each character, every detail painted an absolutely magical world that I would gladly immerse myself in over, and over again! Ms. Shotwell was able to articulate more than a novel, she created a place readers will never want to leave. A land of mystery, magic, deceptions and twists! Now the only thing I have to wait for is the next book in this fantastic series!
5/5
===================
About the Author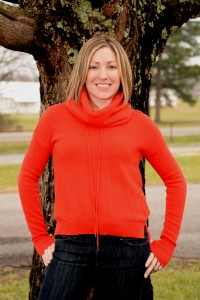 Mary grew up in northeast Ohio, so it was only natural for her to pursue a degree in marine biology. After studying dolphin behavior and great white shark populations, she earned her Ph.D. in Biostatistics in Charleston, South Carolina. It was there, during the arduous dissertation process, where she had the idea to write a book.
With Alice and the crazy characters from Wonderland staring her down from her bedroom poster, Mary envisioned what that fantasy realm would look like in current day. Creative writing served as a natural escape from technical writing, wedding planning, pregnancy, and job hunting.
Mary is excited to debut Weariland (Merge Publishing, 2016), a novel introducing Lason Davies, a teenager who learns about her family's past in a world once called Wonderland. For more about Mary, see her blog. She currently resides in Tennessee with her husband and three children.
===================
Enter the Weariland giveaway HERE