Author: Kathleen Groger
Website
Release Date:

4/5/2016

Purcahse:

Amazon

~

B&N



Trust no one.

Never go out in the dark.

Always have a weapon.

Sixteen-year-old Val lives by these three rules etched on her arm. Her rules and her gun are the only things standing between her and assimilation by hordes of human-looking aliens she calls Raspers.

By day, Val gathers supplies. By night, she hides and wishes she could go back in time…before her family died…before the annihilation…before the Raspers began stalking her and demanding she join their collective.

But when the Raspers attack in broad daylight, the truth becomes startlingly clear.

They're evolving.

A fellow survivor crashes into Val's life. Adam's full of charm and promises—like rumors of a safe haven—but there's something wrong. He's survived with no supplies, no weapons…no plans. Time is running out. With the formula for survival shifting around her, Val must decide how many rules she's willing to break to escape the Colony.
Mesmerizing!
The Colony proved to be just as fast-paced & exciting as the synopsis promised!
With a world being taken by these things that are getting smarter, they're learning. Val knows what she has to do to survive....she's done it before. Being scared her whole life has kept her alive, but after realizing quickly that her own personal world is evolving as well, Val realizes that trusting Adam is the only way she might survive after all.
Along with their personal relationship being complicated, Val & Adam struck me as sort of a Carl & Daryl type of duo. Adam has mystery, takes risks and knows how to survive. Val is cautious, stuck in a "survival box" and doesn't take a step without thinking about 3 times.
I feel that this is why they worked so well. They balanced each other out & had a dynamic that caused the storyline to explode.
Each chapter proved to out do the last one, with delicate details and wild imagination I was absolutely sucked in until the end. Though I wish there were something's done differently at the end, I kept reminding myself, "This is the start of a series", so all those quirks have time to play out in the long run. It's going to be exciting to see where the next book leads, and how Val is able to cope with everything going on.....the hard part is always waiting!
4/5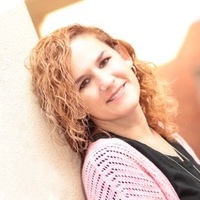 Kathleen wrote her first story in elementary school about a pegasus named Sir Lancelot. It had no plot or conflict, but it sparked a dream. After serving a fifteen-year sentence in retail management, the bulk in big box bookstores, she turned her love of reading into a full-time career writing dark and haunting characters and stories.

She lives by the mantra that a day is not complete without tea. Lots of tea. Kathleen lives in Ohio with her husband, two boys, and two attention-demanding dogs. When not writing or editing or revising, you can find her reading, cooking, spending time with her family, or photographing abandoned buildings.
Author links:
==============


GIVEAWAY
A Kindle Fire
5x print copies of The Colony
Swag
a Rafflecopter giveaway