======================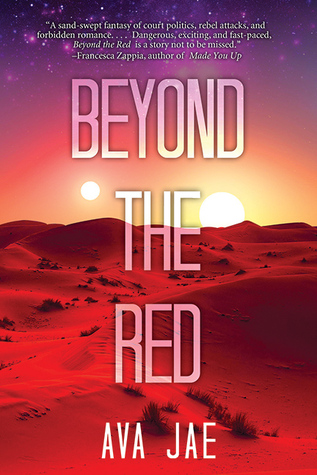 Author: Ava Jae
Website
Release Date: 3/1/2016
Purchase Info:

Amazon

~

B&N
Alien queen Kora has a problem as vast as the endless crimson deserts. She's the first female ruler of her territory in generations, but her people are rioting and call for her violent younger twin brother to take the throne. Despite assassination attempts, a mounting uprising of nomadic human rebels, and pressure to find a mate to help her rule, she's determined to protect her people from her brother's would-be tyrannical rule.

Eros is a rebel soldier hated by aliens and human alike for being a half-blood. Yet that doesn't stop him from defending his people, at least until Kora's soldiers raze his camp and take him captive. He's given an ultimatum: be an enslaved bodyguard to Kora, or be executed for his true identity—a secret kept even from him.

When Kora and Eros are framed for the attempted assassination of her betrothed, they flee. Their only chance of survival is to turn themselves in to the high court, where revealing Eros's secret could mean a swift public execution. But when they uncover a violent plot to end the human insurgency, they must find a way to work together to prevent genocide.

Talk about heart-break and turmoil!
First I have to get this off my chest....there better be a second book! For a stand alone this ending was cruel, it left me so emotionally battered I think I'm still in shock. It also left me wanting more Eros, Kora, and with more questions than I started with!
The premise of the book was fantastic, the details popped with vivid scenery, strange races and dynamic characters fighting for power. Kora is now the ruler of a vast, intriguing world, and happens to be the first female to reign in a very long time. Though her

@$$hole

of a twin tries to control her at every turn, I see a light within Kora that is trying to burst out. She has the potential to be a strong ruler, but I will admit when you have everyone cheering for your brother to take your throne it's hard to keep your eye on the prize.
So that's where I feel that Eros position in Kora's life is extremely key. Yes, Kora is promised to another, but we all know how those relationships turn out. Someone either ends up dying or turning into the bad guy.......
Honestly, I was a little shocked how quickly Eros fell for Kora, she did have his family killed....but there seems to be true feelings behind their chemistry. I've seen stranger couples, who really shouldn't have been together work, so why not Kora & Eros??
Back to my first sentence and paragraph, there better be another book! This was one hell of a way to end a book. My heart broke, my blood boiled, but I've read that the author intends to write a second book and potentially turn this into a series if #1 does well.....so EVERYONE needs to purchase this book so my dreams can come true!
5/5
==================
About the Author:
Ava Jae is a writer, an Assistant Editor at Entangled Publishing, and is represented by Louise Fury of The Bent Agency. Her YA Sci-Fi debut, BEYOND THE RED, is releasing March 2016 from Sky Pony Press. When she's not writing about kissing, superpowers, explosions, and aliens, you can find her with her nose buried in a book, nerding out over the latest X-Men news, or hanging out on her blog, Twitter, Facebook, tumblr, Goodreads, Instagram, or YouTube channel.
GIVEAWAY:


10 winners will receive a finished copy of BEYOND THE RED, US Only.
==============
Tour Schedule:
2/26/2016-
Moonlight Gleam Reviews
- Interview