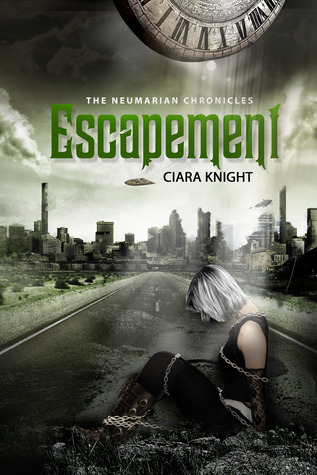 Author: Ciara Knight
Website
Release Date: 2/26/2013
Purchase Info:

Amazon

~

B&N
Ten years after the great war of 2185 the queen's reign is threatened by uprisings and fear. In celebration of my sixteenth birthday it is my duty as princess to sacrifice a slave to be initiated into the ruling council, solidifying my mother's empire. When my own erratic powers surface I'm captured and tried for treason. Slaves hate me, my mother wants me executed, and my only chance of survival rests in the hands of a young man, Ryder Arteres, whose sister I sentenced to death.
Way to start the series with a BANG!
There are some things unique about this series. I've read my fair of dystopia style books, but Escapement was different.
With the entire population separated into 3 different groups it is the Queen's job to keep balance....and in this case balance means sacrificing someone from the "slave" race. Now it's Semara's duty to choose this sacrifice. (Oh if it was only that easy!)
Let's just say things happen and now Semara is scrambling for her life and only has Ryder to help her figure things out.
Oh Ryder & Semara......they are so stinking cute! Ryder knows what hard times are like, but there's a certain softness that shows through him when Semara is involved. Don't worry Ryder isn't throwing away the fact that Semara was set to kill his sister, he can just see the bigger picture. So, whether they realize it or not, I believe they're relationship will come full circle....but can't spoil that!
Semara was absolutely a love/hate character for me. Loved her determination, hated how she came across to some of the people who were trying to help her. Overall though, the growth within her throughout this book was fantastic! By the end of this book Semara realized that there's so much more out in the world than what her mother had shown her. I understand that this conclusion comes to most characters, but Semara seems so passionate about it that I feel big things are to come for her.
5/5
~~~~~~~~~~~~~~
About the Author:
Ciara Knight writes to 'Defy the Dark' with her young adult speculative fiction books. Her most recent Amazon best-seller, Escapement, book I of The Neuamrian Chronicles, released to acclaimed reviews securing a Night Owl Top Pick and five stars from InD'Tale Magazine.
When not writing, she enjoys reading all types of fiction. Some great literary influences in her life include Edgar Allen Poe, Shakespeare, Francine Rivers and J K Rowling.
Her first love, besides her family, reading, and writing, is travel. She's backpacked through Europe, visited orphanages in China, and landed in a helicopter on a glacier in Alaska.
Author links:
~~~~~~~~~~~~
Signed copy of Escapement by Ciara Knight (US only)
25 $ Amazon Gift Card (INTL)
a Rafflecopter giveaway